The Entrepreneurial Society – etventure at the Global Peter Drucker Forum
22. November 2016
Last week, the eighth Global Peter Drucker Forum took place in Vienna. The city is the birthplace of Peter F. Drucker, who is dubbed the 'father of modern management.' The event was organized by the Peter Drucker Society Europe, a non-profit association, and it is one of the world's most important management conferences. Each year it is attended by leading management thinkers and practitioners, top business executives, and well-known academics. One of the speakers at this year's event was Christian Lüdtke, Founder and Managing Director of etventure. Furthermore, etventure Project Manager Sebastian Neumann took part in the Peter Drucker Challenge and successfully made it into the top 15 of shortlisted contestants. 
The topic of this year's conference was 'The Entrepreneurial Society.' It was over 20 years ago that Peter Drucker described the development towards becoming a society that thinks and acts entrepreneurially. This process has been accelerated, particularly by digitization. Digitization requires companies to adapt to new trends and methods.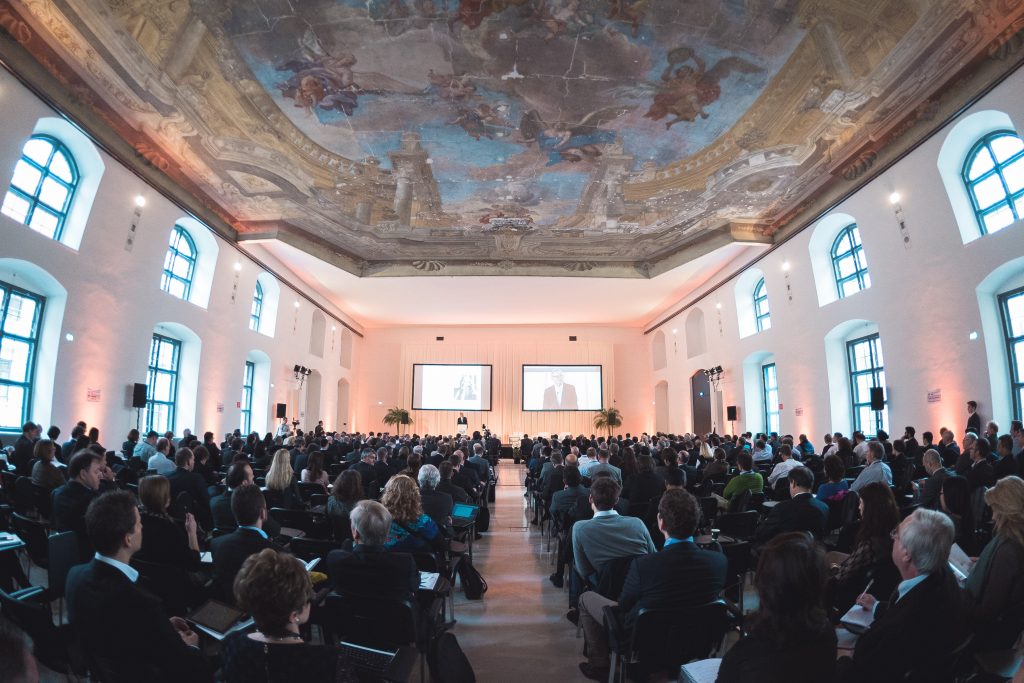 High-Tech Sartups: The Hunt for the Unicorn
They are known as 'unicorns' – private companies that are valued at one billion USD or more, such as Skype, Spotify and Zalando. For many startup founders and investors, being a unicorn is the dream. But how can startups and companies innovate successfully? What experience has been gained with incubators, accelerators and so on? These questions were the focus of the panel discussion. Christian Lüdtke was one of the panellists and he is convinced that corporations can operate entrepreneurially as well. During the panel discussion, he explained that although there is a lot of innovative potential within large corporations, it can only be fully exploited by using appropriate methods and approaches. Innovation and digitization must be pursued within a 'separate entity' – an independent digital unit that is far removed from the established structures of the core organization.
Sebastian Neumann – Peter Drucker Challenge finalist
Sebastian Neumann's participation in the Peter Drucker Challenge essay competition was another highlight for etventure. His first attempt at entering the competition, an essay entitled 'My Learning Journey towards an Entrepreneurial Society,' made it into the top 15 submissions.
We met with Sebastian to interview him about it:
1. What exactly was the Peter Drucker Challenge 2016 about? 
Practically every economist has heard of Peter Drucker. Undoubtedly, one of the reasons for this is that he wrote one of the most important books about innovation and entrepreneurship. Many of his predictions were accurate and his writings relate to the transformation towards becoming an entrepreneurial society. That is exactly what the conference is about. Its impressive title is: "The New Entrepreneurs. Movers and Shakers in Economy and Society."
2. What is the purpose of this challenge and what motivated you to take part?
The purpose of the challenge was to discuss Peter Drucker's works in today's context and against the backdrop of personal experiences. There were around 350 entrants in total this year, which is a record. I actually wanted to take part last year but time constraints meant that I wasn't able to. This time round, the extremely high profile speakers at the conference meant that I couldn't resist taking part. An opportunity to meet all those people who I am only familiar with from the spines of books! My essay wasn't quite the right material for the top prize, but even taking part and being able to attend this event was a great experience!
3. What did you write about in your essay?
The title of my essay is: 'My Learning Journey towards an Entrepreneurial Society.' It describes some moments in my life in the context of Drucker's texts. For example, I wrote about when I started out my career in the media sector. At the time, the sector was on the brink of digital transformation. I tried to write something personal and to represent my experiences of corporate entrepreneurship. It ended up being a bit of an all-nighter effort because I didn't have time to develop my ideas at a gentler pace. Nevertheless, it seems my concept went down well! [Sebastian laughs]
Thank you so much for the interview!
Watch the panel discussions on "High-Tech Startups: The Hunt for the Unicorn", including the one that features Christian Lüdtke.
---