A Beginner's Guide to MVP
06. September 2016
What is an MVP? Why is it important for your business? In our beginner's guide to MVPs our Head of Product, Gregor Ilg, explains what a minimum viable product is, how it is developed and how it can help companies to enhance innovation.
Introduction
When you join a roadmap meeting and you hear people talking about the "MVP", you better make sure they are actually talking basketball before you throw in your favorite Michael Jordan story.
There is no shortage of buzzwords in business, and executives are constantly inundated with jargon – especially when it comes to Digital Transformation. However, digital is also one area where savvy executives know they need to show strength – and at etventure, we specialize in helping CEOs add digital to their playbook. Since we receive a lot of questions from CEOs about "MVPs", I've put together a quick overview for you. I've worked to keep it brief, yet provide the essentials you'll need to keep your teams driven – and focused.
What does MVP mean?
"MVP" is an acronym for "minimum viable product". The term has its origins in Silicon Valley, where technology companies battle to find ways to innovate faster – and gain competitive advantage. During the last couple of years the MVP has become the holy grail of agile product development – but there are still a variety of different interpretations about what "MVP" really means.
So, what is a minimum viable product, and how do you go about creating one?
The MVP Process
The most common definition (as popularized by Eric Ries) describes the MVP as "a version of a new product which allows a team to collect the maximum amount of validated learning about customers – with the least effort".
For many executives and their teams, the MVP process can be counter-intuitive. This is particularly true in industries that are highly regulated, where teams are used to taking a lot of time and care when implementing new ideas. The MVP process is built on a set of somewhat radical core principles, all designed to get ideas implemented quickly:
Don't aim for perfection, aim for progress!
Testing for the right thing is critical!
Don't think in features, think in benefits!
Keep the product idea in mind, but only plan for the next step!
Success is not only measured in revenue gained, but also in costs saved!
As odd as they may seem, as the executive it is critical to keep your team focused on these principles. Speed can make the difference between success and failure – but only if you run in the right direction. So you better make sure your compass is calibrated.
Understanding MVP Development 
The Challenges of Waterfall vs. Agile:
Many companies have a careful method of product development – that is deeply embedded in their culture. This step-by-step approach is known as "the Waterfall method". With an MVP, instead of asking your team to spend weeks or months writing a detailed specification, you need to ask your team to start with a vague goal in mind – and then "sprint" from "pit stop" to "pit stop" to gather customer feedback as quickly as possible. This approach is known as "Agile".
So, why do this?
The exercise of building an MVP isn't about creating a perfect, finished product. Instead, building an MVP is about validating an idea. By keeping the process lean and fast, you are minimizing your financial risk, and give yourself the opportunity to try out more ideas, identify winners early, and quickly discard ideas which won't produce positive results.
Hypothesis-based Iterations
So the obvious next question is – how do you do this? First, you need to ensure that your team has identified a positive outcome they expect for each MVP – a hypothesis. For example, your team might assume that taking an Excel-based process online will increase efficiency – and therefore cut your costs and increase sales.
To validate this hypothesis, you build an MVP.
Then you test the MVP with real users.
In your tests, you may find that users are not using the MVP as you expected.
If so, you adapt – and do another sprint to improve the MVP.
This build-measure-learn-repeat cycle is what MVPs are all about. If you follow this approach, you'll significantly increase your chance of finding the right direction – or pivot if not.
Conclusion
MVPs are a great way to quickly test out your ideas, and drive innovation within your business. But in our extensive experience, it also takes top-down leadership and trust from the CEO to truly benefit from the MVP process. Especially with a very vague long term goal in mind, the product team needs to be trusted to make the right decisions along the road without knowing beforehand how to get there.
Sometimes even with CEO leadership, your best people are not able to adapt to the entrepreneurial mindset needed to make MVP development work. If this is your situation, find yourself a great partner to help you build a digital culture.
Regardless of your capabilities, you should be prioritizing innovation on your near term roadmap – to ensure your business is well-positioned for the future.
About the author: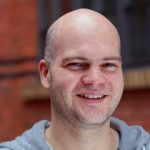 Gregor Ilg leads the product team at etventure. Under his guidance, the team has delivered hundreds of MVPs for clients – across a range of industries.
---