The Business of Two-Speed IT
28. September 2016
What is Two-Speed IT? How can it accelerate time-to-market? In "The Business of Two-Speed IT" our Head of Technology, Martin Rudloff, explains Two-Speed IT for business leaders.
As a leader, you are well aware of the pressure to drive innovation within your business. However, you may have had some unpleasant experiences in the past – where you fell short of your objectives, or even had an outright disaster!
So, what you need is a way to ensure you can quickly get new ideas to market – while minimizing risk to your core business. This is where Two-Speed IT comes into the picture.
The Oil Tanker
You can think of your existing IT setup as an oil tanker. This is by no means a criticism of your IT team – the analogy highlights some important key attributes of IT business-as-usual.
Big & Complex
If your business is large, so is your IT portfolio. You have a range of front and back office systems, lots of desktops and devices to manage, as well as specialized systems that are unique to your industry.
Extremely Robust
It is extremely difficult to get all of these systems working together – and even more difficult to fine tune, secure and optimize the whole IT portfolio. However, IT is business critical – so it is likely that your key systems are extremely robust, keeping your business running 24/7.
Slow to Move
By their nature, your core IT systems are also slow to move and change. Since they are in use every day, your IT team must be extremely careful when deploying any updates – and this takes time. However, change in IT is constant – so your IT team is often consumed with the enormous task of planning and implementing ongoing enhancements – while keeping everything running at the same time.
Barrier to Innovation
The net result? Your safe and secure IT oil tanker is often a source of frustration – as it can be perceived as a barrier to progress and innovation.
So, what do you do?
The Speed Boat
With Two-Speed IT, you deploy a "speed boat" – to scout the waters ahead of your oil tanker.
Exploration
The first task of your speed boat is exploration – searching the waters for new business opportunities, areas for optimization, and other game-changing ideas. The cost of this exploration must be lightweight and low-risk for your main business, so the IT speed boat also leverages techniques from the startup world – to quickly test and identify winning ideas.
Moving Fast
The other key attribute of your IT speed boat – it must move fast. The speed boat uses the MVP approach, together with agile software development and user-centric design. This provides:
Fast release cycles
"Adapt as you build" capability
Finding the perfect fit for your end users
Bringing It Together
Once your speed boat has identified winning new ideas and implemented a working MVP, how can you integrate the new capability back into your core business?
One way to deliver a quick win is through the use of APIs – a layer of middleware that enables new systems to communicate with your existing IT portfolio. Your IT team may already provide a middleware layer across your business, or you can use a third party middleware solution – such as etventure's etv-CORE.
The Right Captain
Both your "oil tanker" and "speed boat" need the right captain – but both leaders should have very different qualities. The oil tanker captain must be cautious and meticulous – someone your trust to get your precious cargo (your business-as-usual) from point A to B with no problems. However, the speed boat captain must be a sharp-eyed explorer and a risk-taker. You have to trust that your speed boat captain will find the best ideas, and bring back proof of their value.
Conclusion
The oil tanker and speed boat analogies work on a number of levels – and highlight how Two-Speed IT can be incredibly effective.
If you are not already working on setting up Two-Speed IT within your organization, you should strongly consider it – and engage a strong partner if you need guidance.
About the author: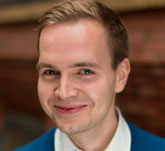 Martin Rudloff leads the Development team at etventure, and is the primary architect of etventure's etv-CORE middleware platform.
---