People of etventure – "Focus on the team, not the ego"
24. January 2018
In our "People of etventure" series in 2018 we want to take a look behind the scenes and introduce the people who develop and implement digital ideas every day at etventure. Carolin Kröger, Principal at etventure and expert in the field of insurance and InsurTech, continues.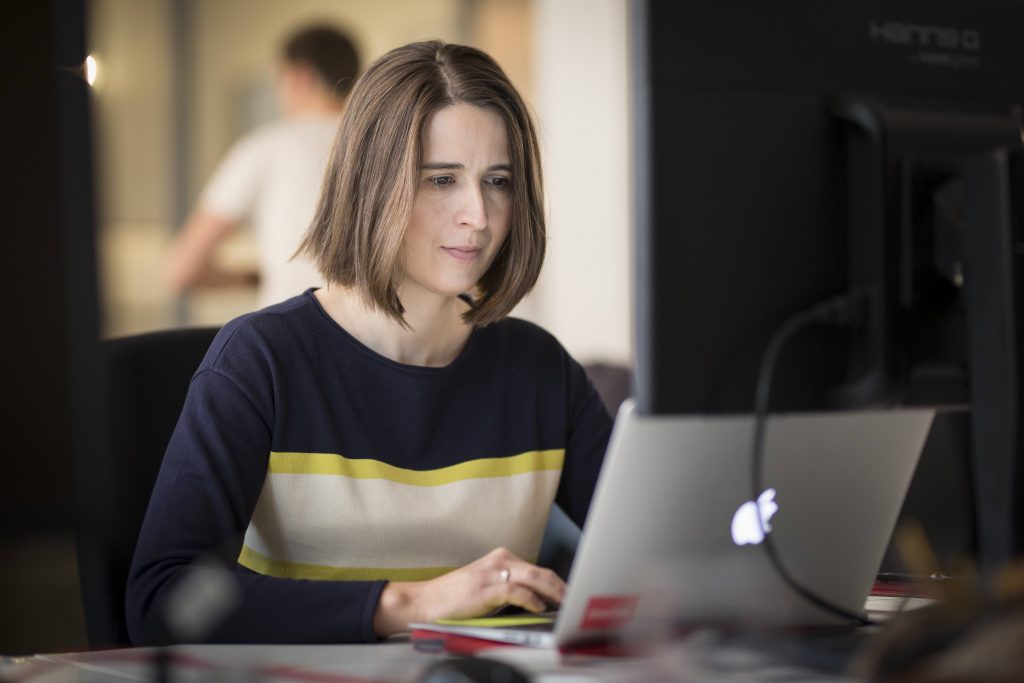 Copyright: GDV / Florian Gaertner/ photothek.net
What are you doing at etventure?
I am a Principal at etventure Corporate Innovation, which means that I am always responsible for several customer projects in parallel and take care of the steering and further development of the etventure project team as well as the relationship and communication with the customer at the managing director/management board level.
What do you like most about your work at etventure?
For my role as a Principal, I have to constantly look into new thematic worlds and understand new industries because of the different projects. This makes my work at etventure super varied. It never gets boring. On the contrary, I keep learning. This is, of course, partly due to the young colleagues who come from university with fresh ideas and can present new, exciting working methods and try them out quickly.
How was your first day at etventure?
Great! I felt that I got to know all the employees at once (at that time there were only 20 of them) and was able to jump right into two projects. And I remember that Philipp Herrmann (one of the three founders and managing directors) couldn't believe that I really liked to drink my coffee black and strong. Of course, sugar and milk were still available for me.
What does etventure mean to you?
The dynamics and professionalism, our philosophy. We are doers who point out and tread new paths – without being completely aloof. We communicate on an equal footing with all those involved in the work process. Instead of letting the management tell us how things work in production, we prefer to go to the factory ourselves and talk to the employees to filter out digital processes that could make their working day much easier. We listen, are empathetic and pragmatic in our search for concrete solutions. And this is also reflected internally, of course. We're not very hierarchical. I like that a lot.
What do you do for one day without etventure?
Thanks to my 80% position, this is the case every Friday: First of all, I do a nice and extensive yoga session as long as the kids are in school. Yoga is always possible, even when I'm sick or hung over. I've been doing yoga for ten years now, usually before everyone else gets up. It's the time of the day I have for myself – and I enjoy it very much. It's grounding me. Friday afternoon I enjoy the free time with my two daughters and in the evening we have the traditional Pizza-Movie-Night on our sofa.
What kind of people do you like to work with?
With everyone who is curious, inquisitive and modest, but who also communicates openly and honestly and does not pursue a hidden agenda or play political games. I think that as a team player nobody has to push themselves into the foreground. By the way, that's what I really like about etventure – the whole team is always in the centre of attention. Not the ego.
What do you think your colleagues especially appreciate about you?
I'm super straight forward and say what I think without being hurtful. In addition, I provide the team with enough space and opportunities to develop, make their own decisions and develop themselves further. I'm not the micro-managing type who monitors and controls everything. I am much more likely to set clear framework conditions for all members and communicate my expectations – not only performance is important to me, but also that everyone realizes their potential.
How do you know you did a good job?
On the one hand, if etventure colleagues feel comfortable on my project, learn a lot, have fun and like to come back with me on a new project. And on the other hand, if my customers don't complain and I even get a follow-up project.
If you could appear on the cover of a magazine – which magazine would you choose and why?
In any case WIRED – preferably the original version from the USA. This is the only magazine I have subscribed to in the print edition and always enjoy reading. Why? Because the contents are varied, innovative and well researched.
What's the craziest thing you've ever done?
Because of my passion for classical music, especially singing, I simply went to the stage entrance of the Bavarian State Opera during my studies, asked for the director, actually got a meeting with him directly and started an internship there a little later. You have to be bold.
What would you do with a million euros?
Naturally invest in Keleya (Startup of W&W Digital). Or set up a foundation to support either young artists or (art) projects for children. I've wanted to do that for a long time. The idea came when I used to go skiing with friends; they bought useless things like the newest skis from the USA or several snow suits every year, depending on the weather – even though they still wore the wrong suit every day. I thought at the time: why are they doing this? No one needs that. No one needs this abundance. Art and culture, on the other hand, is important for society. I swore to myself about it: When I have money, I put it in music projects.
---