etventure Digital Transformation Study 2017: German companies are too slow and inflexible
09. March 2017
Last year, a study by etventure investigated how large German companies are getting to grips with the digital transformation. One year later, we now have the second status update on digitization, carried out jointly with GfK Nuremberg and YouGov USA. In addition to re-interviewing directors and decision-makers in German companies, US corporates with a minimum revenue of EUR 250 million were surveyed for the first time. The results showed there is a clear turnaround in the levels of awareness in Germany, but there are problems in executing the digital transformation – and they are way behind the USA.
Increased importance but slow execution
The etevenure study clearly shows that companies now recognize the importance of digitization. The digital transformation is now defined as the key issue in more than one-third of German corporates (35 percent). And it is among the top three issues for half of the companies. One year ago the figure was only 41 percent. However, in the USA this is already the case for two-thirds (66 percent). This means that more than twice as many US than German corporations consider themselves to be "very well" or "well" prepared for the digital transformation (Germany: 35 percent, USA: 85 percent). US corporations are also setting a completely different pace for execution. Half of US companies surveyed expect the digital transformation to have impacted their market share or revenue in less than one year. In Germany, just about six percent reckon that their digital activities will pay off in the near future.
The reason for this is that large German companies lack experience in customer-centric procedures (63 percent), i.e., they still have difficulty making clients the focal point for their work. Defending existing structures (50 percent) also presented problems for companies – still the most-frequently mentioned obstacle in 2016 – as well as lack of time. 31 percent described themselves as too inflexible and slow – whereas only 7 percent of US companies stated this.
USA expects jobs miracle, but skepticism reigns in Germany
In light of these figures, it is not surprising that the US companies were also significantly more optimistic when it came to their forecasts on jobs. While one in five of German corporates fears that jobs will be lost as a result of digitization, according to the etventure study, around 60 percent of US companies expect an increase in jobs. At the same time, almost all US corporates (90 percent) believe their employees have the right skills for the digital transformation, whereas only a minority say this in Germany  (42 percent). As a result, digitization is fostering insecurity in one in three of large German companies and is dividing their staff into proponents and refuseniks.
But both countries are agreed that digitization will mainly impact on the skills required by employees. And almost all companies are relying on further training measures to close competence gaps.
One in three large German companies is collaborating with startups
At first glance it is surprising that German corporates are working with startups significantly more frequently. While in Germany 35 percent of corporates are cooperating with digital players, only 14 percent are doing so in the USA. Through such collaboration, German corporates are expecting to achieve faster innovation and access to new technologies. In contrast, developing an in-house digital unit is much more frequent in the USA (57 percent) than in Germany (33 percent).
The press release on the etventure 2017 study can be found here. The compact executive summary and the e-paper with the detailed findings can now be requested via the study website.
Overview of the study's key findings: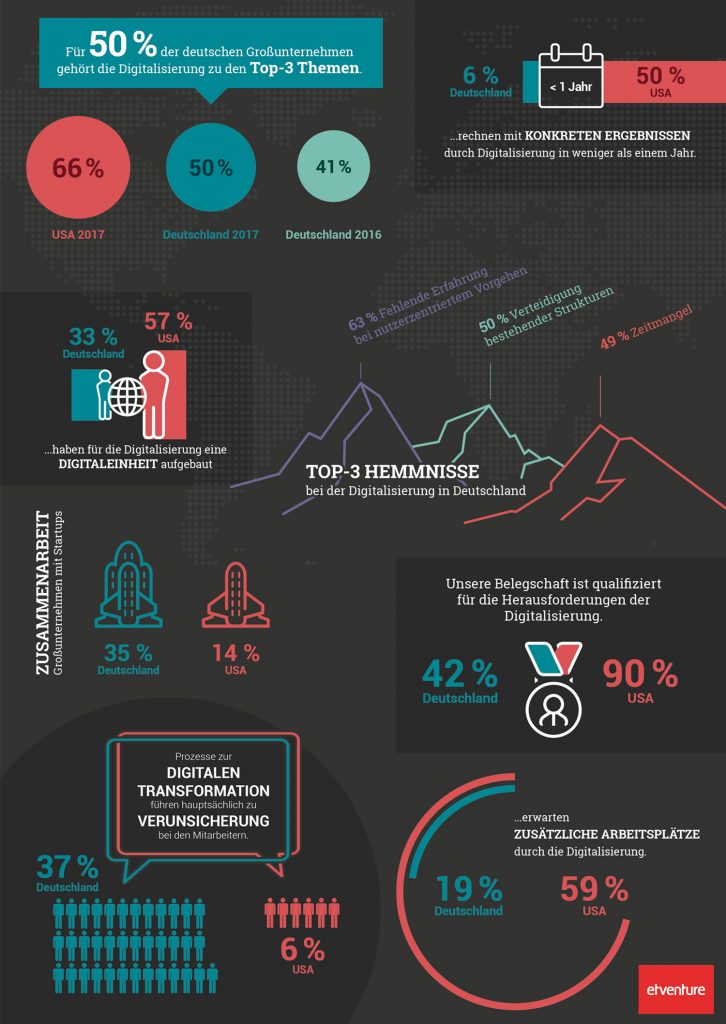 ---