'What makes your digital transformation successful?' – etventure marketing campaign enters the second phase
10. October 2016
Using the slogan 'Digitization does not need consultants, it needs entrepreneurs,' etventure launched its first large-scale marketing campaign in May this year. Today, the campaign is entering its second phase. By creating the etventure Scratch Card, we have yet again formed a marketing tool that displays the success factors for digitization in a playful way. The playful scratch card contrasts etventure with traditional consultancies and positions it as a mover and shaker in the area of digital transformation. The entire concept for the scratch card was developed in-house and it combines online and offline channels.
The etventure scratch card highlights the success factors for digitization
What makes your digital transformation successful? Courage to take risks or fear and status quo mentality? High speed execution or PowerPoint marathons? The etventure scratch card highlights the decisive factors for digitization. This promotional game concept is available both as a physical scratch card and as a digital version. Participants have until December 15 to enter the prize draw by rubbing the scratch card to reveal three of etventure's factors for successful digitization. The measures and qualities that are typical of traditional consultancies are mixed in among these factors for success. Since there are ten HTC Vive virtual reality headsets to be won, the winners will be able to gain first-hand experience of digitization.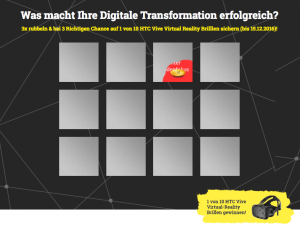 In addition to the online version, the scratch card is being circulated in the German business publications Handelsblatt (as an insert in the October 18 issue) and Manager Magazin (as a stuck-on insert on an advertisement page in the November issue). The marketing tool will also be placed in the first-class carriages of Deutsche Bahn trains for two weeks, as well as being given to passengers on all airberlin flights for one week.
The idea, concept and execution were all 'handmade by etventure'
By launching the scratch card promotion, etventure is carrying on from the far-reaching marketing campaign in May. Like this campaign, the etventure wheel chart flyers playfully presented the demands that digitization calls for and highlighted the benefits of the etventure approach when compared to the approaches taken by traditional consultants. While consultancies such as McKinsey and BCG are still focusing on complex strategy papers and PowerPoint marathons, etventure is characterized by its entrepreneurial approach, its executional skills and its focus on users. This positioning and the use of an innovative marketing tool resulted in a hugely positive response. Not only did the campaign lead to etventure becoming more widely recognized, but it also generated concrete business opportunities.
As was the case with the wheel chart flyers, the etventure scratch card was also developed and produced in-house – from the idea and concept right through to the design and marketing. The scratch card provided a way for etventure to showcase its creativity as well as its digital expertise.
---