Unternehmer-Schmiede launches 'Corporate Digital-Unternehmer Meetup' series of events
23. November 2016
Meetups and FuckUp Nights are standard event formats in the startup scene. At these events, founders can exchange views and have frank discussions about successes and failures, challenges, and best and worst practices. For established companies, however, these kinds of events have been few and far between until now. Unternehmer-Schmiede has now taken remedial action by introducing the 'Corporate Digital-Unternehmer Meetup' events for digital entrepreneurs in corporate settings. The first event in Berlin was a huge success and the series will now be continued.
Frank conversations among corporate digital entrepreneurs
"The goal of this meetup for corporate digital entrepreneurs is to bring together those digital entrepreneurs from SMEs and large corporations who are responsible for digitization," explains Mathias Weigert, CEO of Unternehmer-Schmiede, which is a joint venture between etventure and the HR and management consultancy Kienbaum. "This is because all of them come up against similar challenges." Unfortunately, established companies are still reluctant to address these challenges publicly. At large events, companies tend to only display their own successes. By contrast, a relaxed and small-scale environment like the one we provide at our event facilitates impartial discussion. Such discussion might include the various 'pain points' such as data protection, compliance and governance, or the important steps to take when implementing digitization.
Launch event attended by representatives from SMEs and large corporations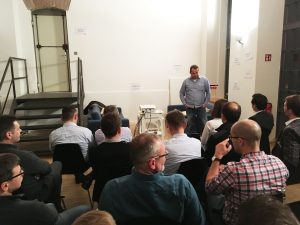 At the launch event, which took place in Berlin in mid November, it became evident that Unternehmer-Schmiede has struck a chord with this idea. Around 20 participants – digital entrepreneurs from various German SMEs and corporations – gathered at Unternehmer-Schmiede's premises in Berlin's Ackerhöfe. In total, there were five speakers who each told the participants about their daily work and about specific digital projects at their respective companies:
Nils-Christoph Ebsen, CEO of W&W Digital, provided an insurance professional's perspective of digitization. "The only way it can work is by demonstrating, joining in and imitating," he explained. With this statement, he also perfectly summarized the purpose of this event for corporate digital entrepreneurs. What made the discussions so fruitful was the fact that the participants represented different sectors and were at very different stages of digital transformation. What can we learn from each other's successes and mistakes? Who can I observe and learn from?
Getting people on board and relinquishing control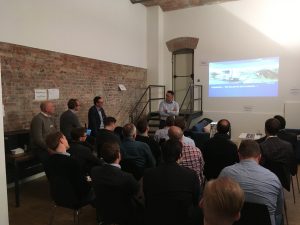 The human factor is another aspect that must not be forgotten in the process of digitization. In order for the transformation to be a success, employees need to be convinced about the value added by new technologies and innovations. "If the middle management staff aren't on board, you won't stand a chance," one participant explained. In particular, digitization is often hindered by the existing processes and structures in companies. Corporations find it particularly difficult to relinquish control. But it is precisely this mentality of having to have security and control that is inhibiting speed and flexibility, two things which are vital to the success of digital transformation. It is often the case that the legal frameworks at corporations are not yet suitable for digitization.
Follow-on events are already in the pipeline
At the end of the first 'Corporate Digital-Unternehmer Meetup' event, the participants agreed that there should definitely be a follow-on event with the same attendees. This would make it possible to continue accompanying the various companies as they progress.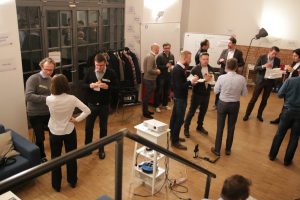 ---