Taking the plunge on more business? Take the plunge on being more entrepreneurial!
19. May 2017
"Missing the target" – that's Handelsblatt's assessment of the speeches of the prominent politicians at the "Taking the plunge on more business" conference, which was run by entrepreneur associations DIE FAMILIENUNTERNEHMER and DIE JUNGEN UNTERNEHMER last week in Berlin. Alongside German Chancellor Angela Merkel, Federal Minister for Economics Brigitte Zypries and FDP Chairman Christian Lindner were present to speak to around 700 guests about the future of German family businesses. But large elements of what they said were unspecific. Handelsblatt also thought that etventure founder Philipp Depiereux provided large amounts of added value with his talk. "SMEs feel that he understands them as a target group."
Utilise advantages, forge alliances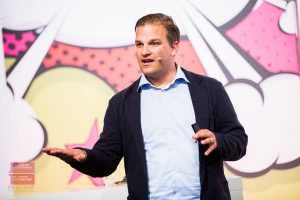 "The SME target group is now financially strong and in need of help when it comes to developing new business models," wrote Handelsblatt editor Anja Müller in her review of the event. "Philipp Depiereux is one of the pioneers of this development. The founder of digital consultancy etventure has already implemented projects with companies like Viessmann, Haniel and Klöckner. Many entrepreneurs listen to him attentively." That is because Depiereux likes to say what he thinks and doesn't beat about the bush. And because he is an entrepreneur "who is actually running an SME and has messed up an expensive innovation […]". The reason for this was that "he had forgotten to ask his customers beforehand. But he won't be doing that again."
And so he also addressed the painful subject at "Taking the plunge on more business" and explained to the business representatives who were present why it's time to act. Because, according to Depiereux, digitisation is not just "some trend or other that will soon pass". And even SMEs should make use of their advantages in this area. They have short decision paths and the capacity to act entrepreneurially. This enables them to react significantly more quickly and flexibly to changing market conditions than larger companies. With a clear vision and a confident CEO, the digital transformation can be pushed through quickly. To this end, the following apply to digitisation: Don't just take the plunge on more business, but take the plunge on being more entrepreneurial!
The digital transformation must be seized as an opportunity and not just viewed as a risk. Family businesses should also try to compensate for the digital expertise they don't have themselves through cooperations – such as with startups. The aim should be not just to watch the competition, but also to collaborate with other companies and develop their own ecosystem for digitisation.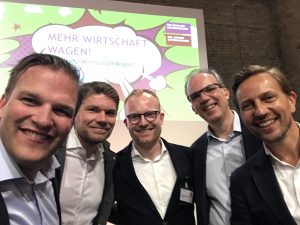 The etventure team at "Taking the plunge on more business"
Straight talking? Not at all!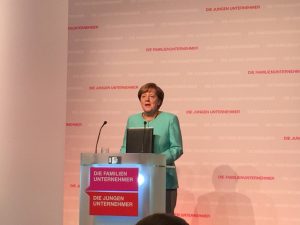 And the politicians? They showed at the event "that SME family businesses are apparently not so important", was the Handelsblatt's scathing verdict. Christian Lindner expressed himself mostprecisely and emphasised, among other things, the importance of economic development for the business community in Germany. Jens Spahn, Minister at the Finance Ministry, called on German industry to "wake up to and play an active role in digitisation". And Chancellor Angela Merkel explained:  "We have to work on our own competitiveness, such as on a digital internal market" and promised an economic programme from the CDU, although without going into any depth on the content. Economics Minister Zypries again praised the innovation centres for Industry 4.0 which Hubertus Proschen, Head of Junge Unternehmer, promptly exposed as "institutions run by bureaucrats".
There was little risk-taking and drive to be felt, at least in the speeches from the prominent politicians. More clarity – that was also demanded by Lutz Goebel who, after six years in office at "Take the plunge on more business", gave his last speech as President of Familienunternehmer. It remains to be hoped that German SMEs say less and do more in their future strategy.
image sources: Anne Großmann Fotografie
---