Startup meets corporation – Mobile World Congress meets 4YFN
29. February 2016
Sunshine and great architecture greeted the team of European Innovation Hub when they arrived in Barcelona to attend Mobile World Congress (MWC) and the startup conference 4 Years From Now (4YFN). Four days of intense networking, workshops, press events and business talks waited for the colleagues. European Innovation Hubs mission: to accelerate tech ‪startups in Europe & beyond, to connect corporates with startups driving their ‪innovation strategy and to create powerful networks linking research, business and talent by coordinating pan-European projects funded by the European Commission.
IoT-EPI: presented for the first time at the Pavilion of the European Commission at MWC
Powered by the international association GSMA, Mobile World Congress is one of the biggest tech trade fairs worldwide. From February 22 to 25, more than 100,000 IT experts from 204 countries attended MWC and its conference tracks. On Tuesday, Laura Kohler, CEO of European Innovation Hub, and David Remon, Project Manager at Libelium, presented a new EU program focusing on the Internet of Things (IoT) for the first time. Kathleen Olstedt, Coordinator of IoT-EPI at European Innovation Hub, discussed approaches for cooperating with potential third parties. The "IoT European Platforms Initiative" (IoT-EPI) brings seven research and innovation consortia (RIAS) together who will work jointly on establishing common technology standards to set the foundations for successful IoT projects in Europe. IoT-EPI is funded by the European Commission with EUR 50 million and will be rolled out over the next three years.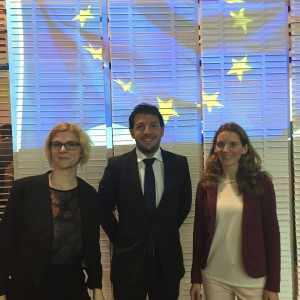 from left to right: Kathleen Olstedt, David Remon and Laura Kohler at Mobile World Congress
Startup Scouting and Networking at 4YFN
4 Years From Now (4YFN) a three day startup conference linking corporate MWC exhibitors with young startups. The third edition of the event brought 12,500 entrepreneurs into the city. Between 22 – 24 February, startups, investors, accelerators, innovation directors and renowned speakers converged at the Fira de Barcelona-Montjuïc convention facilities. 500+ startups exhibited – a great place for European Innovation Hub to discuss the latest trends with investors and accelerators as well as scout for the most promising startups all over Europe for European Innovation Hubs Startup Screening Program for corporates.
---