People of etventure – About innovation work, city trips and crazy side jobs
10. July 2018
We continue with our series "People of etventure." This time Senior Project Manager and Design Thinking specialist Jo Graff tells what makes etventure special for her. It's also about city hopping in Europe and her almost-career as a hit star.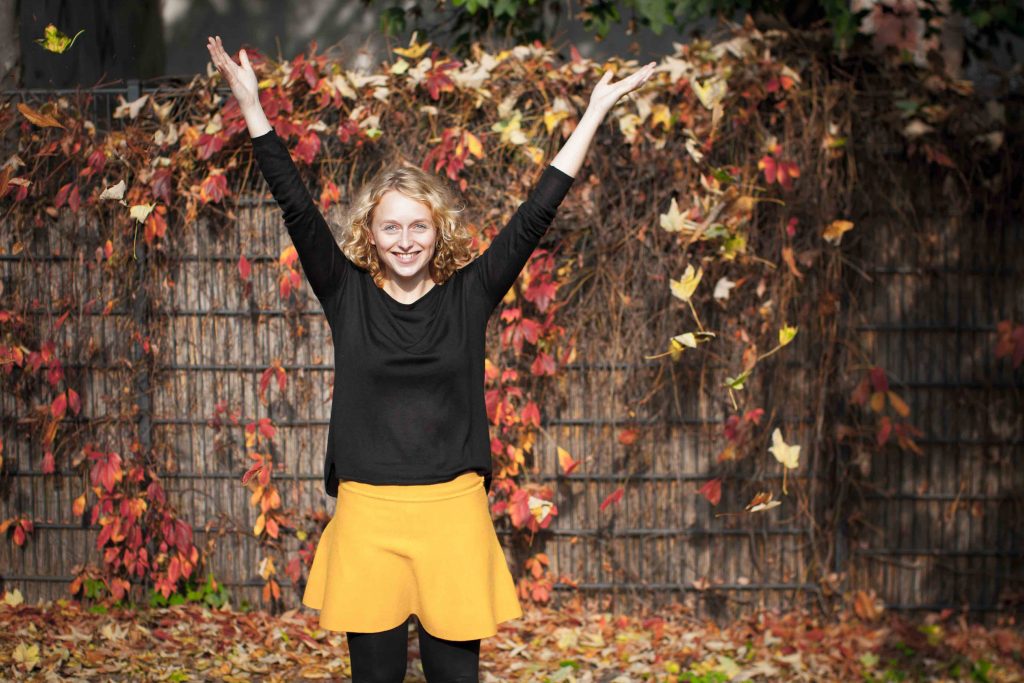 What do you do at etventure?
At etventure I drive innovation topics for various customers from the midmarket and the corporate world. I build up new digital business, train teams and accompany projects across industries until they are handed over to the customer, in the last two years mainly B2B. I also regularly take part in pitches, support internal initiatives and coach executives in the application of innovation methods. In total, I have already been able to work for more than 30 of our customers. So, as with all of my colleagues, my range of tasks is diverse.
What do you like most about your work at etventure?
What I value most about my work is my environment – my colleagues and varied projects. I like working with different people who meet you at eye level and who put their heart and soul into it. I appreciate my work to face new challenges and questions over and over again, to take responsibility and to be able to work user-centered. I've worked a lot with agile methods before and I think it's great that I can now implement and promote concrete ideas.
How was your first day at etventure?
Before I started at etventure, I worked as a freelancer with several employees in innovation sessions and was already present at the Christmas party in Austria in 2015. When it officially started, I knew a lot of people and immediately felt like a part of the team.
What makes etventure special for you?
For me, etventure means a doer mentality, team spirit, dynamic, agile work and an economically sensible interlocking of different innovation methods. Dedicated people work here who want to design and really "tear something", who are at the same time kind and cooperative.
What do you do for a day without etventure?
I love to explore new places and cities on weekends. I just look at which flights are currently affordable and where I haven't been – and seize the opportunity. So I am somewhere else almost every month and discover something new in Europe again and again. I find travelling – of course also longer – incredibly enriching. And otherwise… I relax, nerd myself through series, let off steam in boxing training or play Doppelkopf with old friends.
What kind of people do you like working with?
I prefer to work with people who are honest, committed and empathic – with a sense of humour.
What do you think your colleagues particularly appreciate about you?
My warm-ups ?
How do you know you did a good job?
When I've given 100 percent and customer, team and I are satisfied. I want to achieve a result with which we feel comfortable as a team. But also the way there is important for me.
If you could appear on the cover of a magazine – which magazine would you choose and why?
I was already on the cover of Manager Magazine, that's enough for me ? * Or maybe the cover of National Geographic Traveler? Especially on my solo trips to Asia and the Middle East I really experienced a lot that could be used for one or the other good story.
*Was a gimmick for all employees at one of etventure's legendary Christmas parties.
What's the craziest thing you've ever done?
I already had many crazy side jobs: as a teenager I increased my pocket money as an extra at the "Great Festival of Folk Music" and was on stage with pop stars such as Heino, Heintje Simon and Rolf Zuckowski. Fortunately, the recordings of those days are only available on VHS – and will no longer see the light of day so quickly.
What would you do with a million euros?
I would travel with my husband, invest in an apartment in the Rummelsburg Bay and let our family share in the blessing.
---