Looking back: the first etventure Digital Transformation CEO Circle
13. October 2016
The first etventure CEO Circle took place on Tuesday and the topic in the spotlight was digital transformation. etventure's three founders and managing directors met with seven other CEOs of German companies at the Zollverein Coal Mine Industrial Complex in Essen. The aim of the event was to provide a confidential arena for frank discussions about the success factors in and hurdles to digitization.
Keynote speeches, discussion groups and learning by doing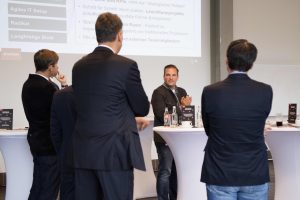 How is it possible to convert a vision for digital transformation into a tangible business success? What are the best practices and what are the pitfalls? These questions were discussed in detail at the Digital Transformation CEO Circle. In his presentation, Prof. Dr. Julian Kawohl from the University of Applied Sciences (HTW) in Berlin clarified that one of the main hurdles to digitization is resistance from employees, particularly from long-standing management staff. Philipp Depiereux then gave a keynote speech that outlined how it is possible to counter this 'status quo' mentality and successfully implement digital transformation. The decisive factor here is to provide a 'protected space' for digitization – a space that is liberated from the existing structures and processes of the organization as a whole. During the panel discussion that followed, CEOs Stephan Gemkow, Burkhard Dahmen and Herbert Forker spoke about their experiences at each of their respective companies. They also discussed the specific entrepreneurial execution of digitization with the other participants.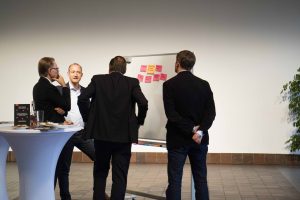 Then it was over to the CEOs to try it for themselves! Prior to the event, the participants took part in short telephone interviews to identify their 'pain points' in relation to digitization. These problematic areas were collated and the participants then worked in groups of four to develop concrete solutions to them. The solutions were then presented in a round table discussion.
Frank dialogue in a confidential environment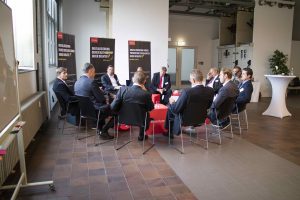 The target group for the CEO Circle events is exclusively the CEOs of companies, whereas comparable events often tend to target middle management. "It truly is rare," confirmed Thomas Ramge. He is a journalist for the business magazine brand eins and he anchored the event. "It is impressive to see how frank the communication is here," he continued, "and to see how the CEOs take such an execution-oriented approach to solving their 'pain points.'"
The reason for this focus on CEOs is also one of the key success factors for digitization: the leadership needs to be the driving force behind the company's digital transformation.  Due to confidentiality, at large events there is often only a superficial mention of the do's and don'ts of digitization. By contrast, the CEO Circle in North Rhine-Westphalia offered an exclusive environment in which it was possible to speak frankly and among equals about specific digital projects, 'pain points' and solutions. "The CEOs gave a clear indication of how they want to continue moving their organizations in the direction of having an entrepreneurial, digital mindset," said co-initiator and Management Professor Kawohl. "I found it very interesting to see that the concrete approaches differed, even in cases where the visions and goals being set were very similar."
Added value for everyone involved
At the end of the event, Philipp Depiereux came to a clear conclusion: "We are convinced that by creating the CEO Circle events, we have identified a format that offers CEOs tangible added value and that is completely unique due to its specific focus on the top levels of management. This is also confirmed by the overwhelmingly positive feedback from participants. As a digital consultant and company builder, we too have learnt many new things. We now have much more detailed knowledge about the specific 'pain points' that CEOs are facing on a daily basis in the course of digital transformation."
It has already been decided that the Digital Transformation CEO Circle will now take place on a regular basis and that it will be held in other locations in addition to North Rhine-Westphalia. There are plans in the making for events in Stuttgart (on February 9, 2017) and Switzerland (TBC).
---