Join the etventure crew! – etventure showcases itself with a new job site
17. January 2017
"Only true entrepreneurs drive digital transformation" – that's our mantra at etventure. With our team of around 250 digital experts and entrepreneurs, we use modern methods to develop innovations for the digital future. Our success is based on the motivated and creative  etventure team members! This is also the reason for the new job site that etventure has designed. Because we are always on the look-out for new talent who can come with us and help us on our road to success.
New job portal – new opportunities
The etventure job site has been online for a few days now. It was created from scratch and – in line with etventure's typical procedure – designed with a clear focus on the user. So, for example, interviews with applicants were carried out to find out their special requirements and needs. The result is our new, modern job portal. In addition to traditional job offers in the talent pool, applicants are given an in-depth insight into a range of different projects and can find out detailed information via individual case studies. It also showcases the different departments, from project management, sales, product, and design through to marketing. There will soon also be some short videos in which our employees give an account of the work they do in the company and give a direct insight into everyday working life at etventure.

Working at etventure is all about having fun and being passionate about developing and testing new digital solutions for our corporate clients, as well as for our own subsidiaries, joint ventures, and startups. What marks us out is our special culture. This includes research and development, enjoying teamworking and true team spirit, transparency and flat hierarchies, flexibility and personal responsibility for each individual. Values like openness, fairness, equality and tolerance are very important to us and form the basis of our collaboration. This is exactly the message that the new job site is intended to convey to young talent.
Working for one of Germany's top employers
The fact that it's fun to work at etventure is not just a cause that we champion – it is also confirmed by external rankings and ratings, first and foremost by kununu, Germany's largest employer rating platform. Here, etventure continues to be given a top rating of 4.5 points (out of 5). Factors like working atmosphere, team spirit, manager behavior, and company image received particularly high ratings overall. etventure is also part of the "Fair Company" initiative, Germany's largest and best known employer initiative. This shows we meet recognized quality standards and verifiable regulations in practice – the seal of a good employer.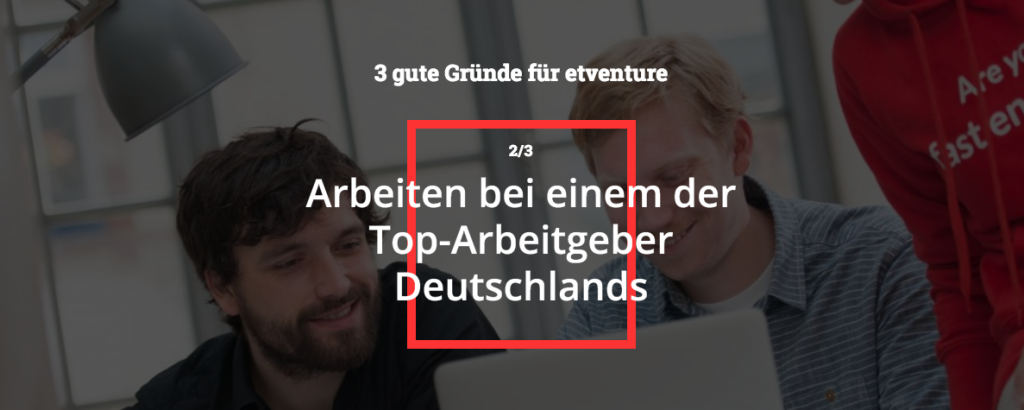 Take a look at our new job site! We look forward to hearing your feedback!
---