Friendsfactory by etventure combines startup building with leasing modern workspaces
20. July 2016
etventure is joining forces with Friendsfactory AG, one of the largest office-sharing communities in Germany. Together, they are undertaking a joint venture called "Friendsfactory by etventure," which makes use of the expertise of both partners. As such, they will now be offering modern office spaces in conjunction with targeted community management, startup building and mentoring, as well as opportunities to collaborate with well-established companies. August 1 is fast approaching – this is the launch date of the first location, which will be in Munich's Parkstadt Schwabing district. The new joint venture is being led by Laura Kohler, Managing Director of the etventure subsidiary European Innovation Hub, and Gregor Gebhardt, CEO of Friendsfactory AG.
Co-Working is dead
"Our guided community boosts your business" – this is the slogan that Friendsfactory by etventure is using to take co-working to another level and to differentiate itself from existing providers of co-working spaces. The membership model means that each startup is provided with a targeted program of startup-building and mentoring so that its business can be accelerated within an innovative working environment.
"The co-working principle in itself does not provide added value for individuals," explains Gregor Gebhardt. He says that on the one hand, it is not possible to nurture your own business model when sharing a room with dozens of other people. "You need your own office – and not just for confidentiality reasons. You also need to be able to work in peace and develop a team culture." On the other hand, many co-working spaces develop a coincidental community. "Generally, neither I nor my business model benefit from the person at the desk next to mine, or the person I chat to during a coffee break. This is why we use the 'guided community' approach. Through our central community manager, we provide targeted support with developing a network and forming working partnerships with contacts whose help will be practical and specific," says Gebhardt. This results in the formation of a community workspace, which is an ideal ecosystem and an innovative working environment, both for startups and for companies.
An office landlord – yet also an accelerator
As well as offering modern workspaces and community management, the joint venture also provides startups with extensive support, ranging from developing a business model and performing user testing and prototyping, right through to marketing the business idea. In this way, Friendsfactory by etventure is becoming a landlord that is also an accelerator. In this area, etventure can draw on the wide-ranging experience and the methodical expertise it has amassed, not only from establishing its own startups such as mobileJob, POSpulse and 360report, but also from developing digital business models for customers from a wide variety of sectors.
"The startups receive specific help with building up their businesses. It is similar to the kind of accelerator program that would require startups to relinquish shares in the business in return," explains Laura Kohler. And the managing director of the European Innovation Hub knows what she's talking about. On behalf of etventure, she and her team have run the EU accelerator EuropeanPioneers for the last two years. Over the course of two rounds of funding, 25 startups in total have received funding of just under five million euros. One participant was the virtual reality startup Splash, which not only ranked among the winners of this year's SXSW Accelerator Award but also recently announced that it had received over 2.5 million dollars at its latest round of funding.
First location in "Silicon Schwabing"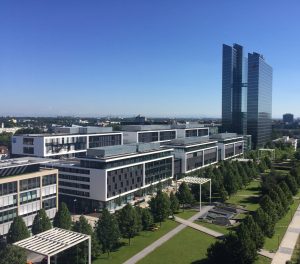 It is not long now until August 1, when Friendsfactory by etventure will be opening its first location. It will have an area of over 2,400 square meters and will be in Munich's Parkstadt Schwabing district. As well as providing a modern atmosphere, Parkstadt Schwabing also has great neighbors. These include technology corporations such as, IBM and Amazon, BMW's research and development center, and the Technical University of Munich's ZD.B center for digitization. It is with good reason that this area to the north of Munich is already being called a "development center for technology and digitization," and even "Silicon Schwabing." The surroundings are therefore ideal for forming connections with companies, as well as for developing startups. With this in mind, Friendsfactory by etventure is also offering established companies the opportunity to develop digitization projects and innovative projects outside the confines of their corporate structures.
The intention, however, is that Parkstadt Schwabing is just the beginning. Before the end of the year, Friendsfactory by etventure is planning to open additional locations in Hamburg, Stuttgart and Berlin. The joint venture intends to launch around 20 locations throughout Europe within the next three years.
More snapshots of the new Friendsfactory by etventure location:
The roof terrace at the new location has already been tested, prior to the official launch: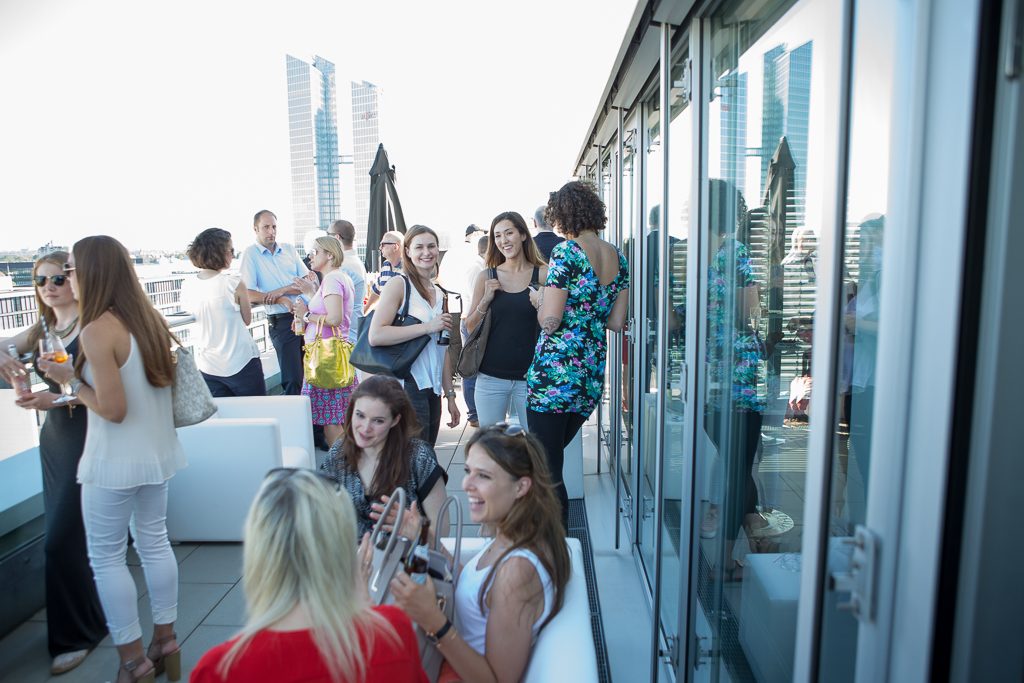 ---