Friendsfactory by etventure arrives in HafenCity, Hamburg
28. October 2016
In August, Friendsfactory by etventure opened its first location, in Munich's Parkstadt district. Location number two is set to follow in February 2017. In the heart of Hamburg's HafenCity district, directly across from the Elbe Philharmonic Hall, there will be a 2,500-square-meter Innovation Hub to bolster cooperation between startups and companies.
An innovation campus for startups and companies
The joint venture between etventure and the office lessor Friendsfactory goes above and beyond merely providing modern office spaces. Through targeted community management, networks will be established between the old and new economies. Laura Kohler, Managing Director of Friendsfactory by etventure, put it like this: "In the future, facilitating collaborative networks will increasingly be a central concern. By facilitating this guided community, we are offering startups and companies a common platform while also acting as bridge builders and translators between the corporate and startup worlds. This means that the pure networking activities lead to the tangible creation of concrete new business."
The new innovation campus for startups and companies in Hamburg is a continuation of this model. This urban office-sharing community offers its tenants a spectacular location in one of the trendiest districts in Germany. The interior will be given a flavor of Hamburg's port district and is set to include meeting rooms in the style of freight containers. There will also be a large events space, numerous workspaces, and a lounge area.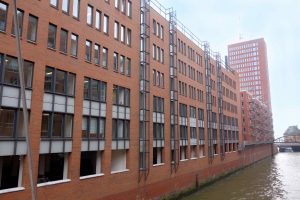 You can read the full press release about Friendsfactory by etventure's new location here.
TipsTuesday event entitled 'Hire the Hungry: How to attract smart minds'
The process of growing a community at the location in Munich's Parkstadt Schwabing district is now in full swing. At these regular Meetups, experts share their experiences with startups. A wide range of subjects are addressed, including sales and growth hacking, HR, storytelling and social media strategies. At the last TipsTuesday meetup, the topic of recruitment was in the spotlight. With the tagline 'Hire slow, fire fast,' etventure HR expert Daniel Pabst and Maximilian Rupp, Senior Talent Acquisition Manager at the startup KONUX, provided founders with some recruitment do's and don'ts. They said it was important to hire people who are quick to learn and able to solve problems. Rupp explains that these people don't necessarily need to be subject experts. "Don't hire Wikipedia, hire Google," he says.
At the same time, it is important to find employees who will fit in well with the company's culture. This means that a creative approach to finding suitable candidates is needed. This might involve employer branding on Snapchat, or searching for talent within your existing employees' networks. At the end of the day, all this is worth it if it enables you to hire the right person. For startups in particular, there is nothing more dangerous than having the wrong candidate on your team.
The next TipsTuesday will be on November 15 and the topic will be 'social media strategies for startups.' Experienced social media expert and CEO of the communications agency 43ponies Annabelle Atchison will pass on her knowledge. You can already register for the event via the Startup EUvolution Munich Meetup Group.
---