etventure on tour – looking back at the event highlights
04. July 2016
etventure has recently been represented at numerous exciting events. For example, at "The Future of Consulting," Founder and Managing Director Dr. Christian Lüdtke explained why the future is in the hands of entrepreneurs rather than consultants. At the "Steinbeis Consulting Tag" event, Philipp Depiereux, who is also a founder and managing director of etventure, gave a talk about using "Processes 4.0" to revolutionize work. What's more, etventure was also involved in giving presentations and keynote speeches at the Handelsblatt annual conference for the real estate industry, the VIR Online innovation days and the "Staat & Verwaltung" (state & administration) future congress. Keep reading for an overview of the event highlights!
What will consultancy look like in the future?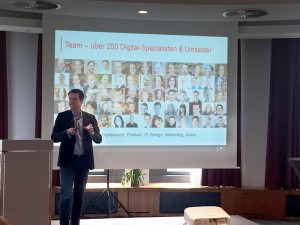 "It's the end of consulting as we know it" – this was the topic of the presentation that Dr. Christian Lüdtke gave yesterday at "The Future of Consulting," a conference in Berlin. The conference facilitated discussion about what the consultancy industry will look like in the future. The traditional consultancy business model is being called into question, particularly by digitization, big data and the democratization of knowledge. Christian Lüdtke made it clear that in this sector, the future belongs to entrepreneurs rather than consultants. This is because customers now expect more from consultancy than sophisticated strategy documents. The key here is executional expertise – something that isn't engrained in the DNA of consultancies. "Entrepreneurs are the consultants of the future," says Lüdtke. This is because they bring with them the skills and qualities that are needed in a digital world. As well as their digital expertise, the main qualities they bring are an entrepreneurial mentality, an innovative, agile way of thinking and working, and a willingness to take risks.
But this calls for the right employees – and consultancies are increasingly coming up against this problem. In today's world, young talents who are highly qualified can take their pick of employers and they are looking for more than just a good wage. While consultants are still clinging to the "up or out" principle, young professionals want personal fulfilment, teamwork, flat hierarchies and a good work-life balance. INNOKI provides a revolutionary example of how this cultural change can take place. It is an innovation consultancy that is made up of 20 founders who all have an equal standing. They take it in turns to manage the company. "It is exactly this kind of organizational structure that is the future," says Christian Lüdtke with certainty.
Using "Processes 4.0" to revolutionize work
This week, the Steinbeis Consulting Tag took place in Stuttgart. The main question being addressed at the event was: In the course of the digital transformation of companies, what changes are (or should be) taking place in HR, processes, and the working environment? Philipp Depiereux was at the event and in his keynote speech, he spoke about the new structures and working processes that are made necessary by digitization. In his speech, he also pointed out the differences in approaches taken by startups and digital companies when compared with established "old economy" companies. Compared to young startups, who develop and test ideas and products very quickly and focus 100 percent on the user, traditional companies still stick to their old-fashioned structures.
Digital administration solutions
There were over 1,400 delegates at this year's Zukunftskongress Staat & Verwaltung future congress, which took place at the Congress Center in Berlin. The congress is Germany's flagship event for e-Government and the digitization of public administration. The top-class list of speakers included Germany's Federal Minister of the Interior Thomas de Maizière and Defense Minister Ursula von der Leyen.
Phillip Brandts, Principal at etventure, gave a presentation in which he outlined what public sector organizations can learn from startups. He also explained how etventure's approach, which includes innovative methods such as design thinking, rapid prototyping and lean startup, can also be deployed by public sector customers. During a panel discussion with Dr. Hilmar Schmidt, Managing Director of Kienbaum Management Consultants GmbH, and Brigitte Meier, Social Policy Advisor for Munich, he spoke about the parallels between startups and the foreigners' registration office in Munich. He said that both are under enormous levels of pressure to perform, which forces them to quickly employ and integrate staff and to find pragmatic solutions to complex problems.
The real estate industry looks ahead to the future
This week, the Handelsblatt magazine invited delegates to its 2016 annual conference for the real estate industry in Hamburg. Among other topics, the conference focused on new technologies and trends and the impact they are having on the real estate industry. There was also an opportunity for startups to put their ideas forward at the Pecha-Kucha-Pitch. In her presentation, Carolin Kröger, Managing Director of W&W Digital GmbH, shone a light on the real estate industry by providing her perspective as a digital expert from outside the sector. In this context, W&W Digital is a prime example of successful symbiosis between the old economy and startup methods. This joint venture between Wüstenrot & Württembergischen, an established company steeped in tradition, and etventure is still the only one of its kind in the sector. It has already developed several successful digital business models, including some for the real estate industry. How this sort of thing can work? "A visionary CEO with strong leadership skills is an important factor," says Carolin Kröger.
The customer relationship is what counts
Last week, the VIR (association of German online travel portals) held its Innovationstage event in Berlin. At the forum, there were discussions about innovations within and for the tourism sector, new prospects for online business, and ways of supporting startups. Johannes Ellenberg, who recently became a Principal at etventure, was also there. In his presentation entitled "Faster, higher and further – squared! Or: Why we need to completely rethink the way companies are managed," he made his point clear: "In the future, there will only be one asset worth having – the customer relationship." This is not just the case for tourism but is essentially true for all businesses, particularly those in the B2C sector. The "Innovationstage" event was opened by Christian Lindner, Federal Chairman of the FDP, a German political party.
Upcoming events
In the days and weeks to come, etventure will be represented at numerous other events. A real highlight in the events calendar is the Handelsblatt "C-Suite: Next Level Leadership" event, which will take place very soon (July 6–7) at the Schlosshotel in Berlin Grunewald. Philipp Depiereux will be one of the speakers and etventure will also be hosting the event's dinner evening. This will be followed soon afterwards by the Tech Days conference in Munich. Philipp Depiereux will also be involved in this event and will be giving a presentation on July 13. etventure Founder and Managing Director Philipp Depiereux will also be a speaker at the SMARTER_MITTELSTAND (smart SMEs) event in Bremen on September 7, in addition to speaking at the Digital Work & Business conference on September 29 in Berlin.
---