etventure meets Stanford University – a brief trip through Silicon Valley
21. February 2017
etventure founder and CEO Philipp Herrmann traveled to Silicon Valley last week at the invitation of Stanford professor Jeffrey Pfeffer and – in addition to participating in an event at Stanford University – used the time to meet up with some old friends from the digital sector. Because Philipp Hermann actually took his MBA at Stanford between 2010 and 2012 and worked during this time with luminaries like Steve Blank and with big tech companies like Google and LinkedIn. Now, a long time later, he has returned to his alma mater. A short travel report in pictures:
On 17 February, Philipp Hermann took part in a panel discussion at Stanford University, which was organized by renowned professor Jeffrey Pfeffer. At the event, alumni from the University passed on to the students their experiences as entrepreneurs and digital experts. Tito Hubert, Head of Product Management at Amazon, Deborah Liu, Vice-President Platform & Marketplace at Facebook, and David Bowman, COO and CFO at Blue Bottle Coffee also took part in the panel discussion.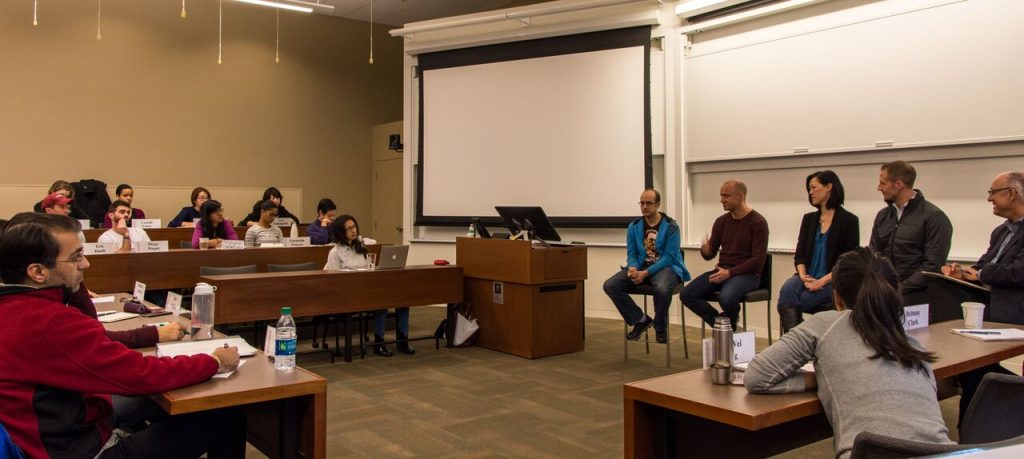 Making the rounds in Silicon Valley
There followed a round of visits across Silicon Valley to meet up with various friends and acquaintances, all of them also successful entrepreneurs who now work at well-known companies in the digital sector. It started at Barracuda Networks, and moved on via Facebook through to Dropbox: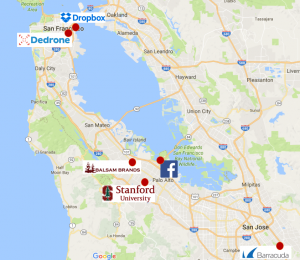 Barracuda Networks: After completing his degree, Philipp's former fellow student Lior Gavish founded cloud security company Sookasa, which was successfully sold to Barracuda Networks. Since the sale, Gavish has been a vice-president at Barracuda Networks and, as Engineering Leader, continues to develop innovative solutions for the company.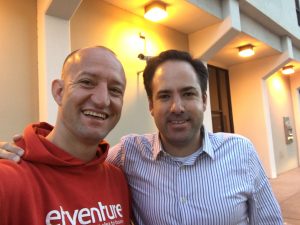 Balsam Brands: Pablo Diaz Barriga is Senior E-Commerce Brand Manager at Balsam Brands, a very successful and fast-growing e-commerce company in the field of furnishings and decor. When they met, the two talked about the future challenges faced by the e-commerce sector, and the opportunities and challenges for international growth.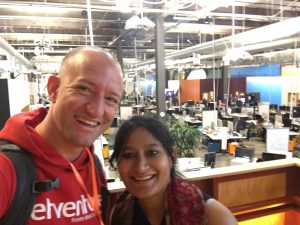 Facebook: For his meeting with Uzma Barlaskar, Philipp traveled to Facebook's headquarters at Manlo Park, where Uzma works in the Newsfeed Product Team. Their meeting was mainly about the methods in which Facebook tests hypotheses in an iterative process to develop new ideas.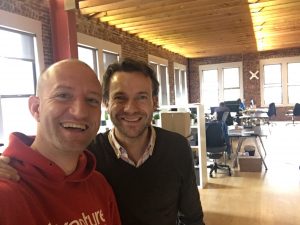 Dedrone: Sebastian Blum is Vice-President Business Development at Dedrone, a startup from Kassel, Germany, which developed the world's first professional drone detection and warning system – the DroneTracker.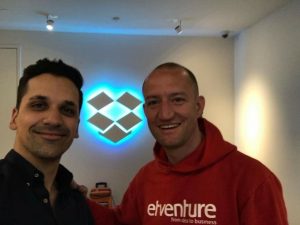 Dropbox: Hamon Parvizi works in the Strategic Partnership Team at Dropbox and is primarily involved in the B2C business. The meeting took place at Dropbox headquarters in San Francisco.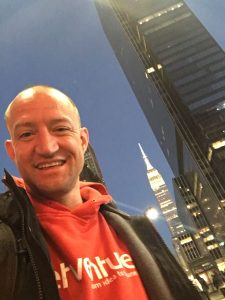 And, last but not least, he naturally had to make a quick visit to etventure's New York office before returning to Berlin.
---