etventure and Accelerate Stuttgart are joining forces in Baden-Württemberg
09. June 2016
etventure is up and running in Baden Württemberg – by February, it had already moved into its own office at the Accelerate Stuttgart premises. etventure is now expanding this joint project and is becoming the new majority owner of the accelerator for Baden-Württemberg. The common aim is to support innovative founders and create connections between startups and companies.
The proximity to large corporate clients such as Wüstenrot & Württembergische and Daimler Financial Services is reason enough for the Stuttgart region to be important for etventure. Baden-Württemberg's appeal comes from more than just the presence of world-leading SMEs and large corporations. An exciting digital startup scene has now developed in the southern German state. Accelerate Stuttgart has played a significant role in driving and promoting this startup scene.
Since 2012, the accelerator has been helping startup teams to develop digital business models. It also provides companies with support for digital transformation, for instance by offering startup scouting and workshops. Its activities range from running an accelerator program to leasing innovative office spaces and organizing events in the region. In 2015, Accelerate Stuttgart created an innovation hub for this purpose in the heart of Stuttgart next to the Feuersee: the Accelerate Spaces.
Johannes Ellenberg becomes a new etventure principal
In the course of the acquisition of majority interest, Johannes Ellenberg, founder and managing director of Accelerate Stuttgart, will join etventure. As a new principal, he will be responsible for further developing etventure's corporate innovation business in Baden-Württemberg. For the time being, he will maintain his position at Accelerate Stuttgart and continue to lead the existing team in its current form. "Accelerate Stuttgart's culture, goals and approach fit perfectly with those of etventure," explains Philipp Depiereux, founder and managing director of etventure.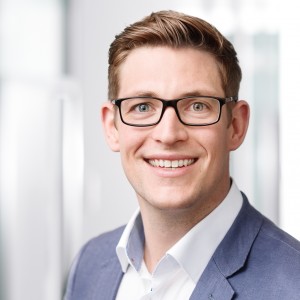 "We are looking forward to collaborating with Accelerate Stuttgart and Johannes Ellenberg, with whom we have gained a specialist for the startup scene and digital transformation in Baden-Württemberg.
Johannes Ellenberg has been active in Stuttgart's startup scene since 2011. As the founder of Accelerate and co-initiator of the Startup Stuttgart association, which was founded in late 2014, he has made a significant contribution to the city's startup scene. "This partnership allows us to combine our most important assets. etventure brings extensive experience with developing digital business models for national and international companies, as well as for startups. Accelerate Stuttgart, on the other hand, has a developed network within the startup scene, as well as with companies, politicians and associations in Baden-Württemberg," says Ellenberg.
The "Corporate meets startup" business division will continue to grow
With its share in Accelerate Stuttgart, etventure is doing more than expanding its presence in Baden-Württemberg. Accelerate Stuttgart will help the etventure subsidiary European Innovation Hub's new "Corporate meets Startup" business division in particular to grow further. The aim of "Corporate meets Startup" is to use startup screening and startup pilot programs to create targeted connections between companies and startups in order to bring innovation, trends and startup culture into companies, while generating new digital business for both parties. Accordingly, one of the first joint projects that etventure and Accelerate Stuttgart will undertake together will be the further expansion of the existing "Corporate Startup Meetup" event format. These events focus on discussion and networking opportunities for local entrepreneurs and pioneering thinkers, who bring the spirit of a startup into their respective companies.
"With the backing of a strong partner, Accelerate Stuttgart is clearly in a better position"
Andreas Geldner, editor of the Stuttgarter Zeitung newspaper, has already commented on etventure's share in the Stuttgart-based accelerator in two posts on his blog (entitled IdeenwerkBW), as well as in the Stuttgarter Zeitung and Stuttgarter Nachrichten newspapers. He writes: "The managers at Accelerate Stuttgart were pioneers in the state capital. Being acquired by a service provider for startups – which is now globally active – is a great accolade for the accelerator. It is also an indicator that founders and established companies in the southwest of Germany need to form close, symbiotic relationships in order to be successful – perhaps closer relationships than in other places. This will strengthen Baden-Württemberg's position as a region with a long tradition of production and innovation. It does not mean we need to worry that a regional brand for startup services could disappear. With the backing of a strong partner, Accelerate Stuttgart is clearly in a better position than it was."
You can read Andreas Geldner's articles in full-length (in German) here: "Stuttgarter Start-up-Pionier verkauft" (Sale of Stuttgart-based startup pioneer) and "Erfolg und Wermutstropfen" (Success with a downside).
Photos of the Accelerate Stuttgart and etventure offices
---