Dr. Yvonne Köster is the new head of HR: "We are creating an ecosystem for tomorrow's workplace"
27. June 2016
etventure just keeps on growing. In the last year alone, the number of employees doubled from 100 to about 200 team members. We receive countless applications every day. Due to etventure's current size, it has become necessary to establish HR structures that give the company the opportunity to keep growing at this speed, to continue investing in staff development and to maintain the etventure DNA – its startup spirit and innovative enthusiasm – throughout all activities. This is why Dr. Yvonne Köster joined the etventure team on June 1 as the new head of HR. We asked Yvonne to tell us what she thinks makes etventure so special and what plans she has for the future as the new head of HR.
Yvonne, you have already had various leadership roles in the area of HR, including positions at Kraft Foods Europe, Unilever and, most recently, at DB Regio Bus in Frankfurt. How did you become aware of etventure and what makes us different from your previous places of work?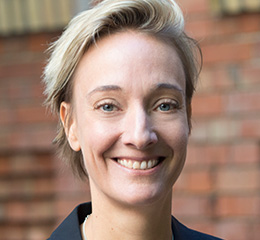 I have been interested in the topics of digitization and the future of the world of work for a long time now. An ad in the Handelsblatt business newspaper brought etventure to my attention and really piqued my interest in the company. etventure is a future workshop and the only one of its kind in Germany. etventure covers the whole innovation development chain and, as a digitization specialist, is engaged with a topic that is extremely future-oriented. This, combined with the employment conditions, is what makes the company so attractive – and it's what attracted me, too.
I then had a meeting with Philipp Herrmann (founder & managing director). We had actually planned to meet for fifteen minutes over coffee, but it turned into two hours. And the conclusion on both sides was that it was a superb fit.
Compared to large corporations, I think the biggest differences are the working methods, the flexible processes, the flat hierarchies and the friendly atmosphere. These things make it immediately obvious that etventure has remained a very young company – compared to the "established" ones. In spite of the strong growth within a short time period, the startup spirit is still tangible at etventure. You get a feel for what is poured into the projects – lots of motivation, passion, fun, tempo and, in particular, executional skills. I think this is a wonderful mixture!
 But you couldn't have known what the working environment was going to be like before you started at etventure.
That's true, of course. You only ever find out how a company really ticks once you start working there. But just the high number of job applications sent in each month speaks for itself. In times like these, when there is a shortage of skills and a "war for talents" that force companies to work harder and harder to attract employees, that is truly remarkable. This is also reflected by the ratings etventure receives on the "kununu" employer review platform. In this area, etventure is ranked at the very top, with a score of 4.5 (out of 5). All kinds of factors are rated on the platform – from work atmosphere and the conduct of managers to equality and work-life balance – and etventure has received consistently high scores in all areas. My first impressions confirm that these scores are justified.
So what plans do you have as etventure's new head of HR?
My main task is to implement the necessary HR structures to guide etventure's development from a startup to an established group of companies, while at the same time maintaining etventure's DNA. etventure's goal is to create an innovative ecosystem for tomorrow's workplace, along with a company culture that is both open-minded and agile. It's up to HR management to establish these structures. To do so, HR needs to work on an equal footing with management to create modes of work and organization and to ensure future-oriented employee development. What is essential – and will remain essential – is choosing the right staff in order to form the best team.
What's more, our company culture means that we are already an example for many companies, particularly SMEs. etventure is already involved with helping companies build teams, for example withUnternehmer-Schmiede. One thing is certain: if we want to offer credible advice to other companies about digitization and the creation of innovative working environments, then we need to be trailblazers in the area of HR and within our own company.
So how are the "right" staff chosen at etventure?
A candidate applying for a position must of course have the right qualifications for the role. But at the same time, it is possible to learn new things and gain new skills. For us, the main thing is the right fit between the company and the candidate. We need employees who identify with etventure's values and the work we do. People who are entrepreneurially minded or have already built up their own startup. Even if their startup failed, that is nothing to be ashamed about because failure is part of being an entrepreneur and makes those candidates extremely interesting for us. What's important is to learn from such experiences. To start working for us, candidates should have a general enthusiasm for new challenges, show personal initiative and integrate into the team. By contrast, lone fighters and big egos would be out of place. Those who want to can dive straight into operations at etventure – whether in corporate consulting, marketing or another area. The combination of exciting projects and a great team is what makes etventure stand out.
Thank you so much for the interview, Yvonne!
---