"Don't always talk about obstacles, just get on with it"
02. May 2017
Minister Ilse Aigner took to the stage at BMW Welt to great effect, namely in a self-driving car, to open the Bavarian Digital Congress 2017 in Munich. Many top representatives of the party from politics, business and academia joined the Economics Minister for Bavaria at the event. These included Philipp Depiereux, founder and CEO of etventure, who, in his role as panel member, discussed digitization in German SMEs with State Secretary Franz Josef Pschierer, among others. The conclusion is that Bavaria is making good progress in the area of digitization. But it could be even further forward if more focus were put on the opportunities presented by the digital transformation instead of only looking at the obstacles.
Self-driving cars already a reality in Munich
The topic of digitization was illuminated from all sides in front of a packed auditorium with around 1,000 guests at BMW W
elt. BMW boss and host Harald Krügerreported on the Bavarian automobile manufacturer's innovation offensive in this area. He announced that the first self-d
riving cars took to the roads in Munich this year. He also said that, initially, they still have a driver who can intervene in an emergency. And a boot full of electronics. However, against the backdrop that Google cars have already got 3.8 million autonomous test kilometers under their belt, it became clear that the premium automobile manufacturer is lagging more than just one step behind.
This was followed by panels on the cooperation between business and science, and discussions on the importance of research and entrepreneurial spirit for digitization in Bavaria, including with Minister of Science Ludwig Spaenle, Prof. Manfred Broy of Zentrum Digitalisierung.Bayern (the Bavarian center for digitization) and Vodaf
one CEO Hannes Ametsrieder. He explained: "Anyone who can't program today is illiterate tomorrow," thereby making clear that the German education system is also still a long way away from a digital future.
Where are the pinch points in digitization?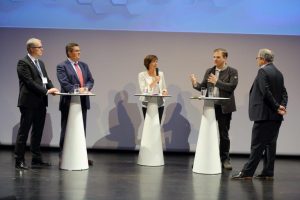 It was striking that most of the various discussions centered around the obstacles to digitization. So, for example, it was noted that there are too few programmers available in the German employment market. But, according to Philipp Depiereux: "Even if each of the companies here suddenly had 100 more programmers, no relevant extra digital business would be created as a result. Because it is often the case that digitization fails in the early stages – specifically with the issue of how and where you actually launch the transformation. Programming itself is generally only the fourth or fifth step.
The same applies to the frequently expressed criticism of the network infrastructure or the obstacle of data privacy. Although it is thoroughly justified, many companies use it as a welcome excuse to do nothing. "You can actually start many digital projects without a high-speed network," said Depiereux. The first step is to understand the client, then to develop ideas, to test these as small prototypes and only then – as a final step – to look for a transmission solution that is independent from the local network. "Companies shouldn't always talk about obstacles, they should just get on with it."
Aside from that, overarching themes like broadband development and data privacy could be addressed in a much more targeted way if they were managed via a central digital ministry – instead of being dealt with to very different degrees by the various ministries. That was also recently suggested by Transport Minister Dobrindt. However, State Secretary Pschierer didn't think much of it, as only the ministries could address the subject based on their specialist capabilities, according to his statement at the Bavarian Digital Congress. However, that makes the process of coordination more difficult and leads to conflicts of responsibility – and delays digital development in Germany, which is already slow, even further. Instead, Philipp Depiereux thinks that politicians should also take advantage of the "protected space" of a digital unit and address the topic in a newly created ministry that is independent of existing structures.
There is enough reason for optimism
All the same, Bavaria does not need to shy away from the issue of digitization. That is proved by the numerous successful startups and innovative technologies, such as IoT and robotic solutions, that were on display at the accompanying exhibition at the Bavarian Digital Congress 2017. This gives enough reason for optimism. Now companies just need to get on with it. The Bavarian Digital Congress was an exciting event with controversial discussions and great moderation. However, as is so often the case with events like this, it spent too much time skimming the surface. Ultimately, is no longer necessary to discuss the relevance of digitization. The digital transformation should concentrate on the "how?", the specific route from the idea to execution – as that is what companies struggle to do.
Image by: Bayern Innovativ GmbH
---