insurHUB 3.0 – when competitors become partners
19. November 2019
In this post in our "wavespace residents" series we would like to present the insurHUB program. Five renowned insurers put competition aside to collaborate on innovating in the insurance industry and rethinking insurance. Yasmin Saathoff, manager at EY Innovalue and project coordinator for the insurHUB, gave us some exciting insights in an interview.
---
Key takeaways: 
Cooperation is essential to successfully innovate

An inspiring environment such as wavespace fosters creativity and ingenuity

New-work ambassadors help establish agile working within organizations
---
Yasmin, wavespace Berlin's tagline is "Co-Creating the Future." In this spirit, competitors have also come together at the insurHUB. How did the insurHUB come about?
It all began with a series of workshops on digital transformation in 2016 that took place every couple of months. The workshop series, attended by various insurers and digital transformers, was organized and moderated by us, EY Innovalue, and our project partners V.E.R.S. Leipzig and SAP. We reached a point when we realized that we had so much to discuss but so little was actually happening and a single day's workshop was simply not enough. In order to really innovate we needed a different concept. And so the insurHUB was conceived. There is a designated room, a designated time and a designated team. The inaugural insurHUB took place in February 2017. And because it was so well received, we are now on our third run.
How does the program work in practice? 
We usually have four or five – theoretically competing – insurers as participants that send people to Berlin to upskill them in methods such as design thinking and enhance their digital know-how. In design sprints lasting several weeks, new business models are then devised and potentially validated at a later stage. We also want to enhance networking with startups in order to give participants an "authentic" impression of new-work methods.
To pick up on "networking with the startup scene," which is one of the aims of the insurHUB, how has wavespace helped you with that?
We are tremendously happy with wavespace and would really like to get back in the wavespace when we restart the insurHUB next year because it provides an excellent basis for us and our work. For one thing there are of course interesting startups there: this provides some great insights and direct opportunity for discussion. At the same time, however, corporates are also in the wavespace, which I also find exciting in terms of cross-industry networking in the ecosystem. For example, we've also held ideation workshops with Viessmann and other big industry players. New innovations and cooperations can be forged beyond the insurance ecosystem, and that is really cool. Naturally we have benefited from etventure's enormous network of startups and were quickly able to establish contact with relevant companies. For example, we held a fascinating workshop with the startup Nect. 
Ideation workshops of course also give rise to MVPs. Have you developed any in wavespace? 
Yes, we currently have two products already at an advanced stage of maturity. Programming is also involved there. But, basically, as we see it, all the ideas that are developed belong to all the participants and anyone can do whatever they see fit with them.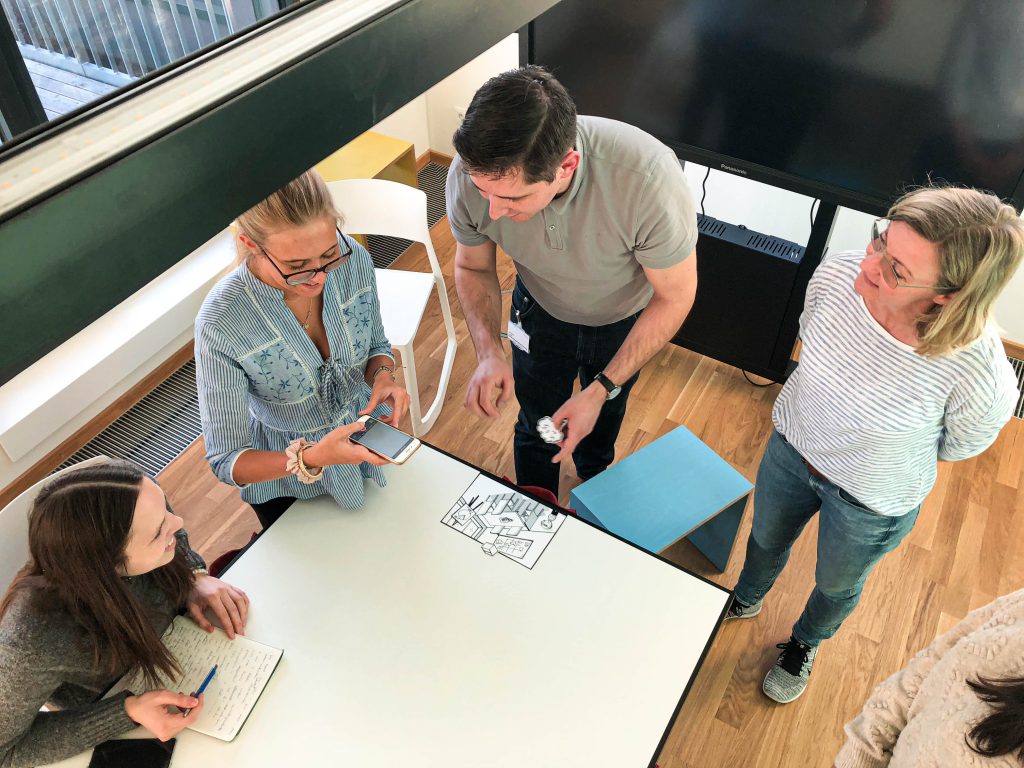 And what is in store for the participants back at HQ? What has your experience been like in that regard?
That varies from company to company. I think the insurHUB is a good amplifier for agile transformation and supports organizations in establishing the required expertise in order to innovate for the long term. The culture at the parent companies also plays a major role and whether the company actually wants to actively apply these methods. It also makes a difference whether a project manager who can drive ideas forward within the company was involved at insurHUB. At one insurer, for example, thanks to the insurHUB they began to set up cross-functional teams and promoted agile methods at the company as a result. An understanding that collaboration leads to inspiration and better outcomes is crucial.
Picking up on that: you talk about training people as new-work ambassadors, what does that mean exactly?
On the one hand, it is about methodological expertise, of course, that the employees know how to develop innovative products or services. And they should do that with different stakeholders, cross-functionally. 
It is very common at insurers that employees work in their department and every section "does its own thing" to a certain extent. We want to inspire participants to work across departments and functions and do just that in the insurHUB by mixing teams so that employees with diverse backgrounds and experience from different companies collaborate together. 
How do you decide who can take part in the insurHUB?
We get the insurers on board ourselves; those firms, in turn, decide which employees should take part. Companies pursue a number of objectives with the insurHUB. Some are strongly focused on creating digital innovations, potentially investing in business models and finding opportunities for inspiration and collaboration. For many participants, however, it is about upskilling employees by introducing them to new methods or encouraging networking with startups.
Thanks for the interview, Yasmin.

---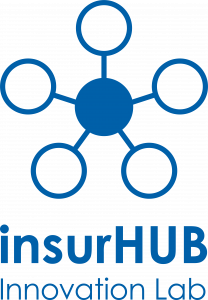 Key data: insurHUB
Founded: February 2017 by EY Innovalue, SAP and V.E.R.S. Leipzig
Participants: HDI, ECCLESIA Group, Provinzial NordWest, Die Stuttgarter and Barmenia
wavespace Berlin: Since March 2019 
Contact: www.insurhub.de
---